Aguachile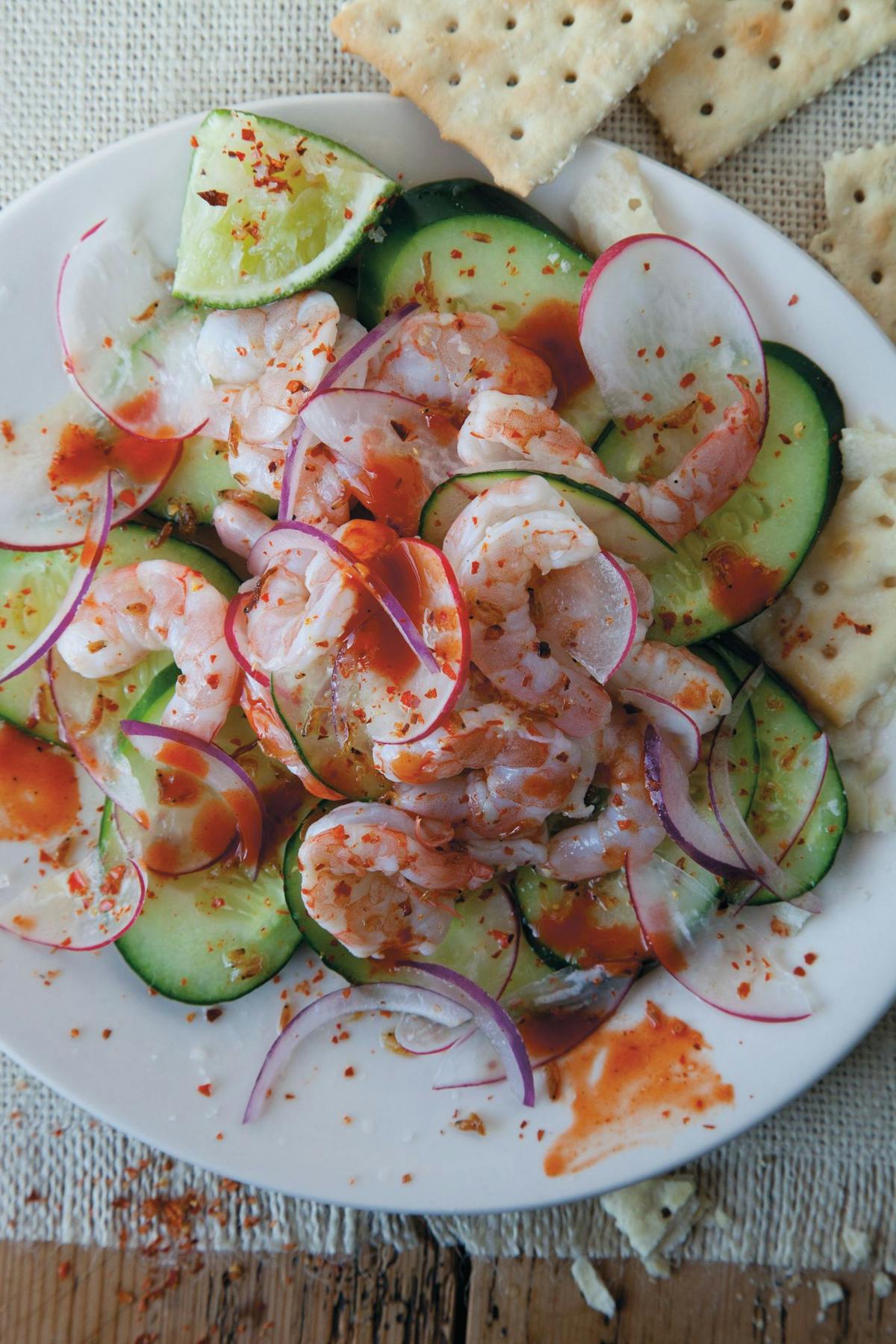 Shrimp Marinated in Lime Juice
Makes 4 servings
In Baja California, I found an exciting hidden treasure in the port of Ensenada — el mercado negro, or "Black Market," an open-air seafood market where local fishermen give samples of the freshest catch-of-day. Aguachile is a popular local dish in Ensenada that is sold at many of the market's puestos. It is a delicious ceviche of butterflied shrimp marinated in lime and accompanied with cucumber slices, which serve the role of the totopos. To butterfly the shrimp, use a sharp paring knife. Fill two small bowls with water. As you butterfly the shrimp, place shrimp in the first bowl and remove vein. Transfer to the second bowl and rinse. Then, place on paper towels to drain. Make sure shrimp is completely dry before adding the lime juice to prevent diluting the marinade.
1 lb medium shrimp, peeled, deveined, butterflied and dry
¾ cup fresh lime juice
1 tbsp finely chopped white onion
1 tbsp fresh key lime juice
½ tsp sea salt plus more as needed
1¼ tsp Mexican chili powder, divided
¼ tsp dried Mexican oregano, crumbled
½ cucumber
Place shrimp in glass or ceramic bowl. Add lime juice. Make sure shrimp floats freely in lime juice to ensure thorough and even marinating. Cover with plastic and refrigerate for 12 to 15 minutes. Strain and discard lime juice. Transfer shrimp to clean glass bowl.
Add onion and key lime juice, toss to coat. Add salt, 1 teaspoon chili powder and oregano, toss to combine. Chill before serving.
Slice cucumber at a 45-degree angle, about ¼-inch thick. Arrange along the edge of a large platter. Sprinkle with salt and remaining chili powder. Place aguachile in center.
Pour remaining juices over cucumbers. Serve with extra cucumber slices and saltines on a separate plate to accompany.