Blackberry and Peach Cobbler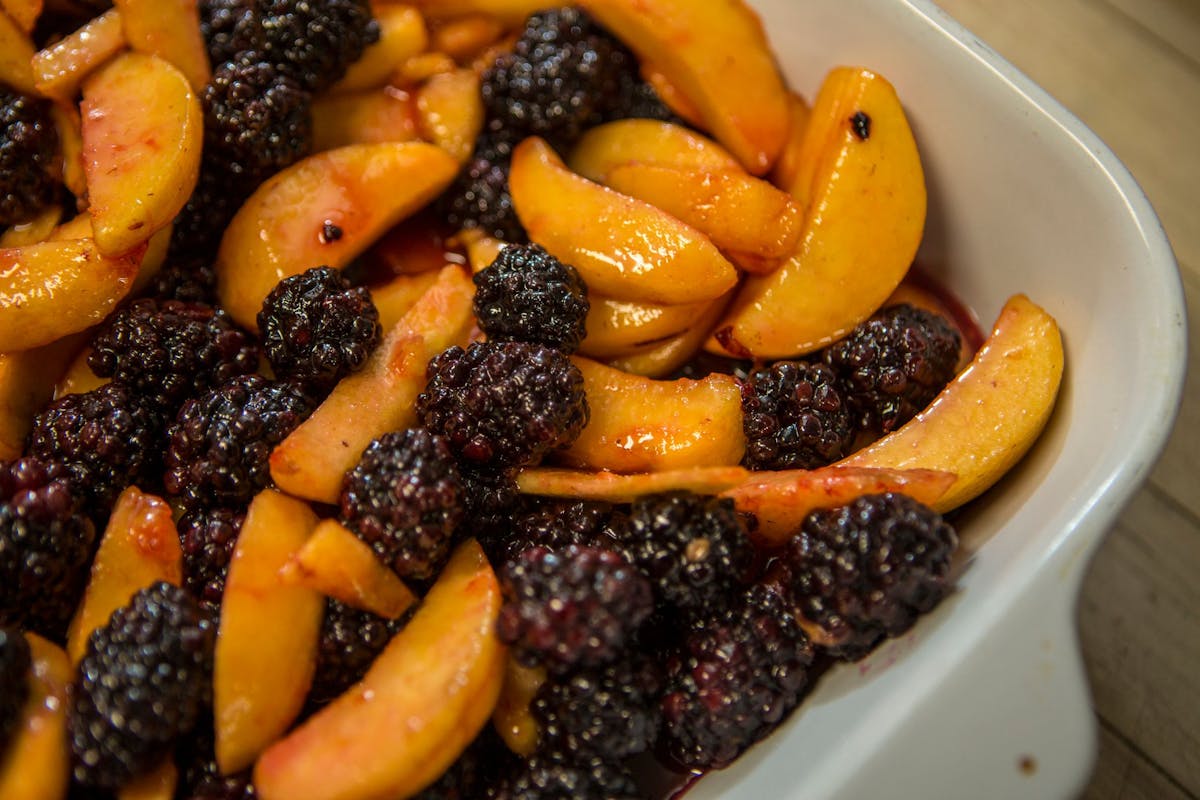 Our most common and popular cobbler at Backstreet is the Blackberry Cobbler. We offer it for Easter, Mother's Day and on our regular menu. It is very homey and guests love it. Ruben loves adding the sweet and meaty Texas peaches as soon as the first batch becomes available. As he describes them: "they are one-of-a-kind."
Serves 8
FILLING:
9 cups fresh sliced peaches
2 cups fresh blackberries
1 ½ cups granulated sugar
1 tsp minced orange zest
1/3 cup fresh orange juice
¼ cup cornstarch
DOUGH:
2 cups all-purpose flour
1 ½ cups granulated sugar
2 tbsp baking powder
¼ tsp coarse kosher salt
1 ½ cups plus 2 tbsp heavy cream
To make filling: Place peaches, blackberries, sugar and zest in a large bowl; toss to coat fruit completely. Preheat a large frying pan over medium-high heat. Add the sugared fruit and bring to a boil, stirring occasionally. Leave boiling for 4 minutes to reduce liquid.
Meanwhile, combine orange juice and cornstarch in a small bowl and stir until well incorporated. Add to fruit mixture and continue cooking until juices thicken. Transfer to a 9 x 13-inch baking dish. Set aside to cool while preparing dough.
To make dough: Preheat oven to 375˚F. Mix flour, sugar, baking powder and salt in a bowl. In a steady stream, slowly stir in the heavy cream until just combined. Spoon batter on top of filling. Leave about ½-inch of space in between each spoonful and from edges of the casserole dish. Sprinkle extra granulated sugar over the dough.
Place casserole dish on a sheet pan to catch any juices and place in oven. Bake until filling is bubbling and a toothpick inserted in the center of dough comes out clean, about 50 to 55 minutes.
Serve warm and with Malted Vanilla Ice Cream