Capirotada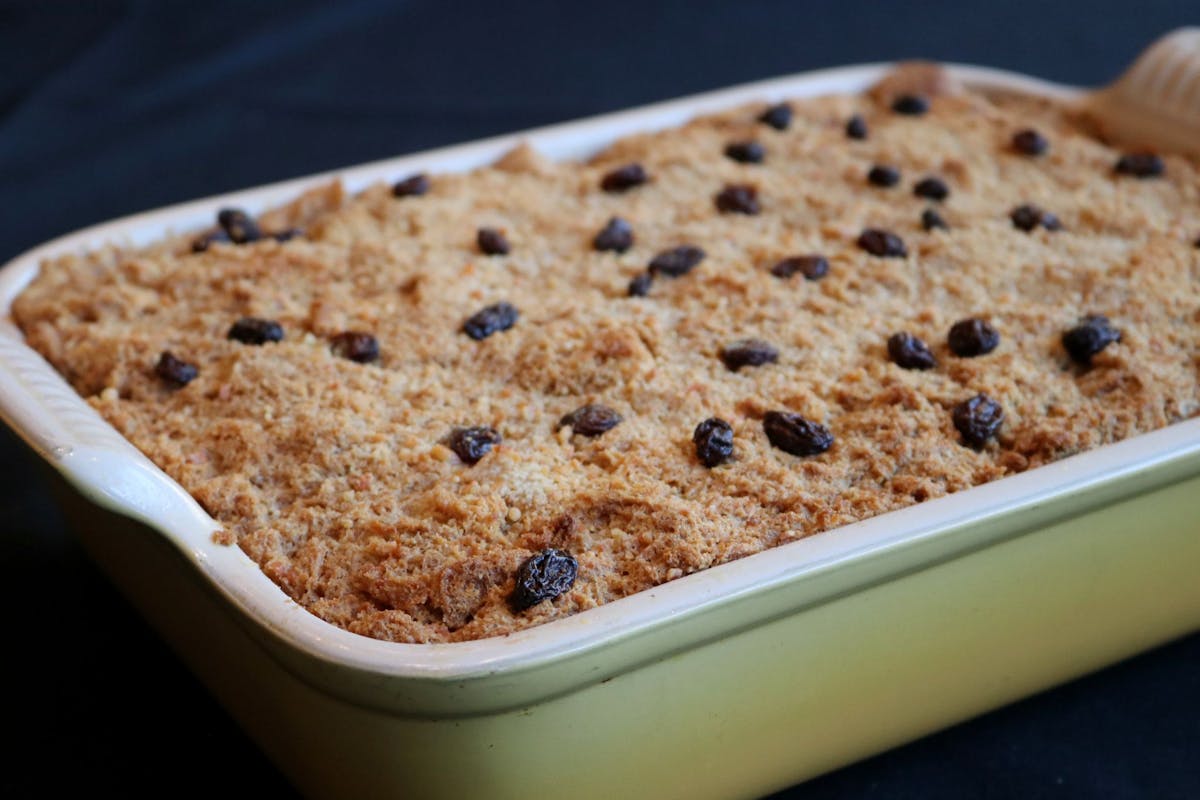 Serves: 6 – 8
For the capirotada:
1/2 cup water
3/4 cup brown sugar
1/4 cup granulated sugar
1/2 cinnamon stick
1 tsp. vanilla extract
1/2 cup butter, cut in cubes
1-1/4 cups heavy cream
1-1/4 cups whole milk
2 whole eggs
1 egg yolk
1/4 cup dried blueberries, reconstituted
2 Tbsp. grated Parmesan cheese
6 cups 1/2-inch brioche bread croutons, toasted
For garnish
1/2 cup sugar cane syrup
3/4 cup queso fresco
Queso fresco ice-cream (recipe follows)
Preheat oven to 350 F. In a deep saucepan, combine water, brown sugar, granulated sugar and cinnamon stick and bring to boil to 200 F. When temperature is reached on a candy thermometer, lower the heat and add butter and vanilla extract. Let butter melt and whisk in cream and milk. Remove from heat and let the mixture cool.
In a separate bowl, whisk the eggs and egg yolk with a hand whisk and temper in the hot liquid by adding a little at a time until all the mixture is incorporated. Transfer to a bowl large enough to hold the mix. Add the toasted brioche and blueberries. Let the mixture rest for a few minutes to allow the bread to absorb the liquid. Transfer to a 9 x 5" pan, sprinkle with Parmesan cheese, cover with aluminum foil and bake in water bath for 40 minutes. Approximately 5 minutes before the capirotada is done, remove aluminum foil to crisp the top. Serve warm, drizzled with sugar cane syrup and sprinkled queso fresco and with queso fresco ice cream on top or to the side.
Queso fresco ice cream
Makes 8 cups
3 cups whole milk
1-1/3 cup sugar
1/2 tsp vanilla extract
1/2 tsp salt
8 grams ice cream stabilizer
1 cup egg yolks
4 cups queso fresco
Heat milk, sugar, vanilla, salt and stabilizer in sauce pan. In a bowl, whisk egg yolks until pale and then temper into heated milk. Cook mixture until it thickens. Add cheese and mix with hand blender. Chill over ice bath. Depending on the ice-cream machine you are using, follow the manufacture's instructions.