Michelada con Camarones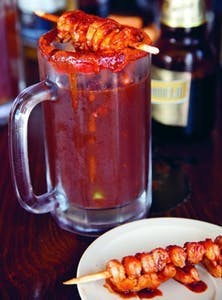 Spicy Beer Cocktail with Shrimp | Makes 4 servings
In San Adrés Cholula in Puebla, Tak & Beer, a bar/clamatería — cocktail stand — serves an incredible spicy beer cocktail with shrimp. A tomato juice mix is poured about halfway in a mug that has a chili powder rim. A shrimp "skewer" is placed on top and a nice, cold beer is served on the side. The customer pours the beer in the mug until it fills up, replenishing the beer content after each sip. What a great way to enjoy the afternoon!
To cook shrimp:
1 garlic clove, peeled
¼ small white onion, coarsely chopped
½ celery stalk, coarsely chopped
2 tbsp black peppercorns
2 tsp kosher salt
24 medium shrimp
For cocktail mix:
¾ cup tomato juice, chilled
¼ cup fresh orange juice
½ cup plus 1 tbsp fresh lime juice, divided
1 tbsp salsa inglesa (Worcestershire sauce)
¼ tsp kosher salt
¾ tsp ground black pepper
1 garlic clove, peeled
½ whole serrano pepper, stemmed
1½ cup Clamato® tomato cocktail juice, store-bought, chilled
To assemble:
Fresh lime juice as needed
¼ cup Mexican chili powder
4 beer mugs, chilled
4 long bamboo toothpicks
4 cold dark beers
To cook shrimp: Set up an ice bath by filling a bowl with ice and water. Place stockpot over high heat and add garlic, onion, celery, peppercorns, salt and 8 cups water. Bring to a rolling boil. Add shrimp and cook for 2 minutes. Immediately transfer cooked shrimp to ice bath to stop cooking process. Allow shrimp to cool completely before peeling and deveining them. Refrigerate covered with plastic wrap until ready to assemble.
For cocktail mix: Pour tomato, orange and 1 tablespoon lime juices in blender. Add salsa
inglesa, salt, ground black pepper, garlic and pepper. Purée into a smooth consistency.
Transfer to pitcher. Add Clamato® juice and remaining lime juice, stir to combine.
To assemble: Pour a small amount of fresh lime juice onto a small plate; place chili powder on a separate small plate and form into a mound. Working one at a time, dip the rim of each beer mug in the lime juice and transfer to the chili powder, creating a red ring on each.
Divide cocktail mix evenly among beer mugs. Skewer 6 cooked shrimp onto each toothpick and place 1 skewer on top of each mug. Serve with beer.