Stuffed Poached Pears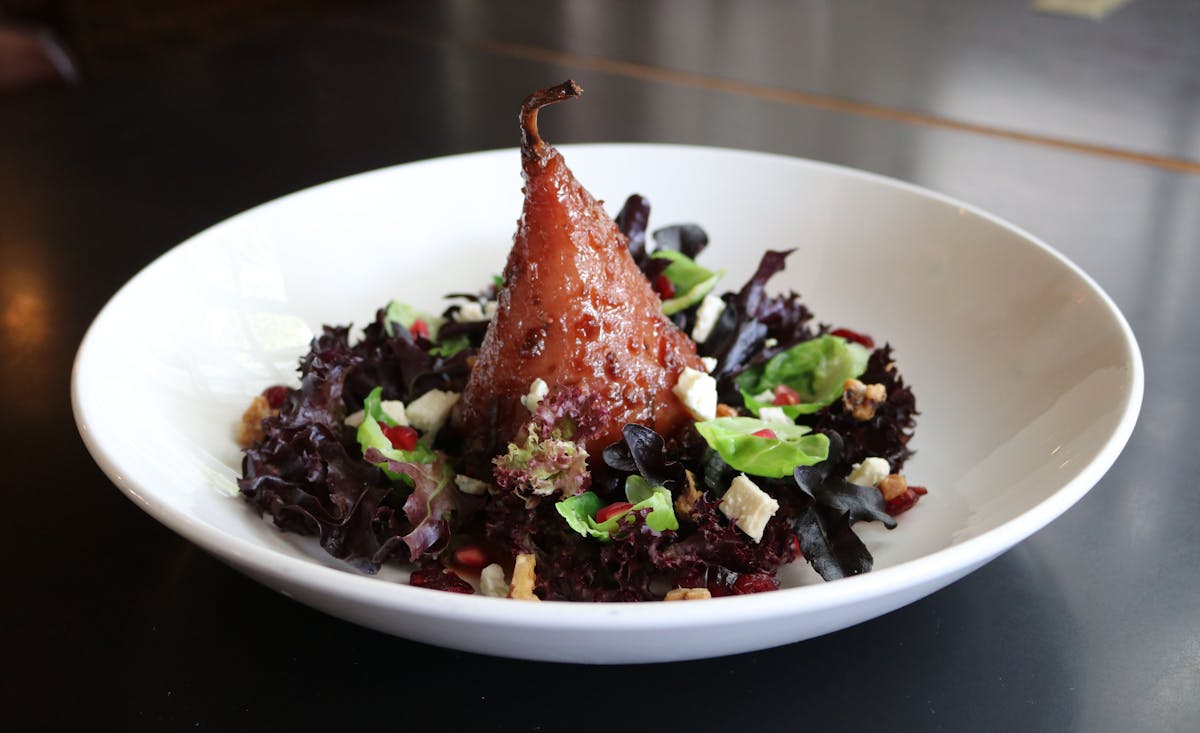 At the restaurant, we serve these pears as a salad with red oak and watercress leaves and use the poaching liquid as the dressing. This is also a very popular vegetarian side for our guests' holiday gatherings. It can be prepared up to 2 days ahead. Cut up any leftover pears to top the Stuffed Endive Spears (see page 239) — an easy holiday party bite.
Serves 4
STUFFING:
½ cup pecans, lightly roasted
¼ cup dried cranberries
1/3 cup blue cheese, crumbled
TO POACH:
2 tbsp olive oil
4 tbsp unsalted butter, divided
¼ cup chopped shallots
1 tbsp chopped garlic
2 whole cloves
1 star anise
3 allspice berries, lightly crushed
Pinch red pepper flakes
½ tsp green peppercorns, lightly crushed
4 large Bosc pears, peeled, stem intact
1 ½ cups sweet red wine, preferably Port
½ cup red wine
½ tsp coarse kosher salt
Pinch freshly ground black pepper
For stuffing: Place the pecans and dried fruit in a food processor and pulse until coarsely chopped. Transfer to a bowl. Incorporate the blue cheese with the pecan-dried fruit mixture using your hands. Set aside until ready to use or refrigerate up to 2 days in advance.
To poach: Preheat oven to 375˚F. Preheat a large ovenproof saucepan or Dutch oven over medium-high heat with oil and half the amount of butter. Once the butter has completely melted, add the shallots and garlic and cook 2 minutes. Stir in the cloves, anise, allspice, red pepper flakes and green peppercorns. Add the pears and allow them to lightly caramelize on each side, about 3 to 4 minutes, rotating occasionally to acquire even color. Add the wines, salt and ground black pepper and bring to a boil. Lower heat and leave gently bubbling for 5 minutes, occasionally basting the pears with the wine. Remove from heat and cover.
Place pears in the oven and cook until pears are soft when pierced with a sharp knife, about 45 minutes. Remove from oven every 15 minutes and rotate the pears using a pair of tongs to ensure even poaching. Remove from oven. Carefully transfer pears to a sheet pan to cool. Place pot with poaching liquid over high heat and reduce by half its amount, about 10 to 12 minutes. Whisk in the remaining 2 tablespoons butter and remove from heat. Transfer to gravy bowl.
Once they are cool enough to handle, core pears from the bottom using an apple corer. Stuff each pear with dried fruit mixture. Set aside remaining mixture to use as garnish.
Place pears on a platter and pour half the amount of sauce over each pear. Set aside remaining sauce. Garnish pears with more of the dried fruit mixture.