Sweet Potato Gratin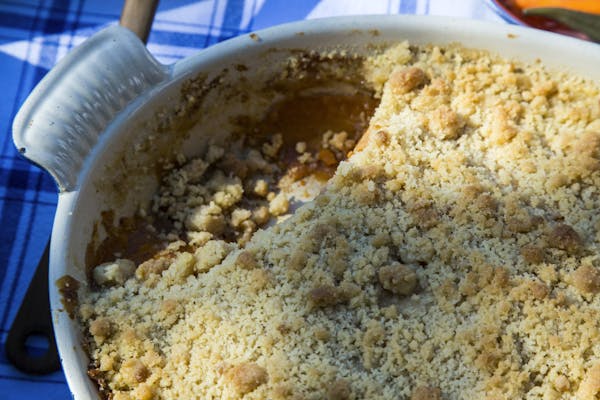 Sweet Potato Gratini
Serves 8 to 10
6 lbs sweet potatoes, peeled
1 cup heavy cream
1 cup granulated sugar
½ recipe Almond Streusel for topping (recipe below.
Almond Streusel
Makes about 3 ¾ cups
1 - (4 oz) stick unsalted butter, cubed
¾ cup tightly packed brown sugar
½ tsp vanilla extract
1 tsp coarse kosher salt
1 tsp minced orange zest
½ tsp ground ginger
¾ cup all-purpose flour
¾ cup almond flour
Growing up, my wife Tracy Vaught's family served sweet potatoes in the traditional American fashion. The sweet potatoes were whipped and had marshmallows on top. The ones we serve at Backstreet are a more elegant version with a sweet crumble on top. They are baked for a very long time. When you cut into them you will see the many layers of sweet potato inside – it is worth the wait. This is the most ordered item on our Thanksgiving to-go menu and can be made up to 2 days ahead. Reheat by removing from refrigerator 30 minutes before warming in a 350°F oven, covered, for 30 to 45 minutes.
Sweet Potato Gratin
Preheat oven to 350˚F degrees. Lightly spray a 3-quart baking dish with cooking spray and set aside.
Place a mandolin on a clean cutting surface. Cut sweet potatoes, lengthwise, into thin slices of 1/8-inch thickness. Whisk together the heavy cream and sugar in a small bowl and set aside.
For each layer, arrange the sweet potatoes in a single layer in the prepared dish. Lightly drizzle the cream-sugar mixture over the potatoes. Repeat this process until using all of the potatoes. For the top layer, drizzle all of the remaining cream-sugar mixture. Cover with aluminum foil, place on a sheet pan to catch cooking juices, and place in oven until the sweet potatoes are soft or until easily pierced through with a knife, about 2 hours. Every 30 minutes, turn sheet pan for even baking. Remove from oven, uncover and sprinkle gratin with streusel. Return to oven and bake until lightly browned on top, about 15 to 20 minutes. Remove from oven. Serve warm
Almond Oat Streusal
Combine all ingredients, except the oats, in mixing bowl and chill, along with paddle attachment, in the freezer for 10 to 15 minutes before beginning the recipe.
Fit mixing bowl with cold ingredients and chilled paddle in stand-up mixer. Mix on medium speed until acquiring a coarse meal texture. Add the oats and mix just until incorporated into streusel, about a couple of seconds. Use immediately or freeze as directed above for up to 3 months.