Tacos de papas, acelgas y champiñones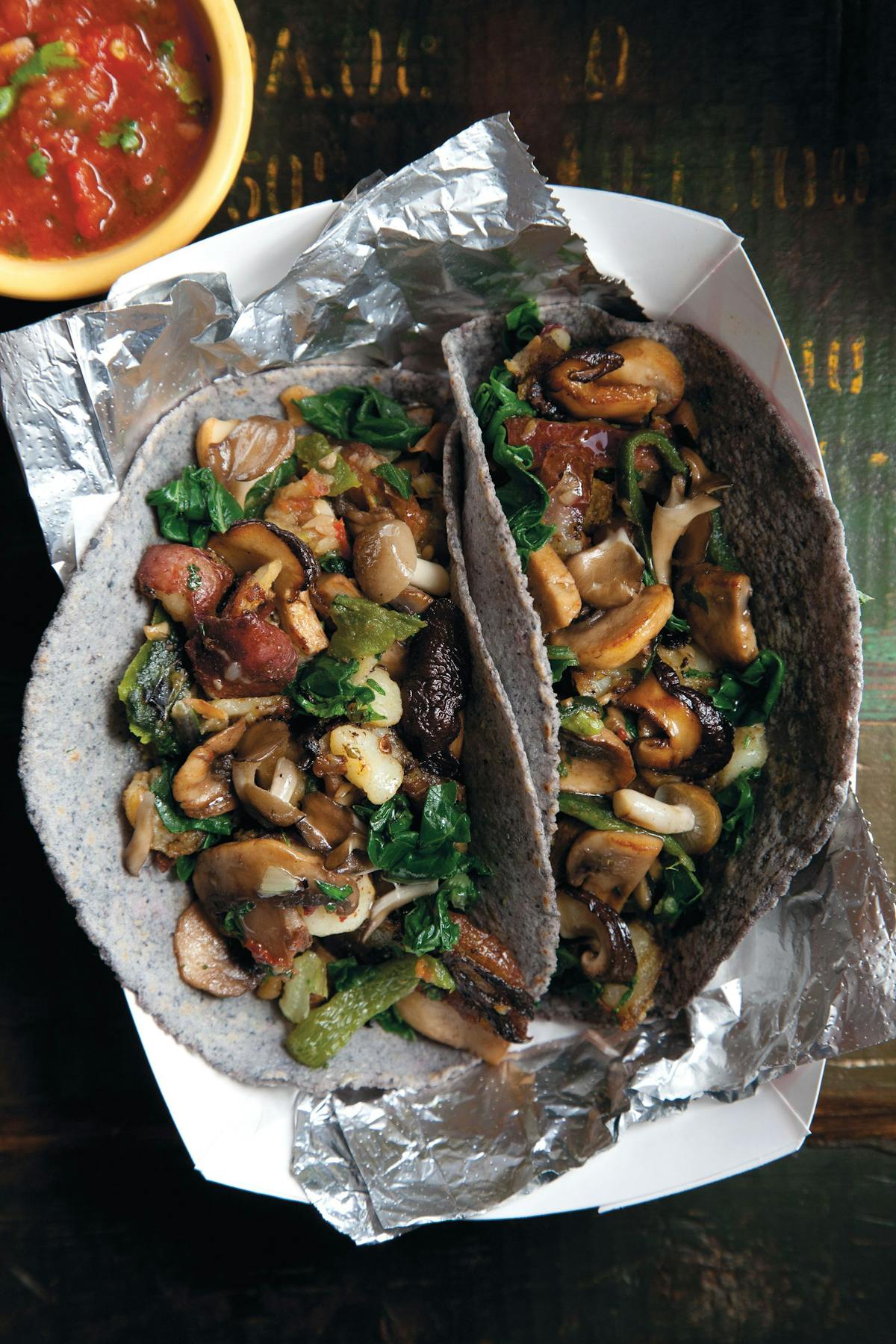 Potatoes, Swiss Chard and Mushroom Tacos
Makes 4-8 servings
This vegetarian taco is fulfilling as well as hearty. This recipe shows that tacos are very versatile for any eating lifestyle. This vegetarian Mexican sauté can also be used as a substitute for the topping for the tlacoyos.
⅓ cup olive oil
½ medium white onion, sliced
6 garlic cloves, peeled, minced
½ lb white button mushrooms, cleaned, sliced or a mixture of your choice
½ large bunch Swiss chard, washed, stemmed
2 chilaca or poblano peppers, roasted, seeded, peeled, deveined, cut into strips
1 large yellow potato roasted, cut into ½-inch cubes
1 tsp kosher salt
8 regular-sized tortillas, warm
1 recipe Hugo's Salsa Mexicana (recipe follows), optional to accompany
Place cast iron skillet over medium heat, add olive oil to skillet and preheat 2 minutes. Add onion and cook until translucent, about 3 minutes. Add garlic and cook 2 minutes more.
Add mushrooms and cook until browned, about 5 minutes. Add Swiss chard and allow it to wilt, about 5 minutes. Add peppers and cook for 6 minutes. Add potato and continue to cook 2 minutes. Stir gently as not to mash the potato. Add salt.
Divide evenly among the tortillas. Serve with Salsa Mexicana.
Hugo's salsa Mexicana
Chunky Roasted Tomato and Pepper Salsa
Makes 2 cups
This is a basic fresh salsa that can be used as a dip for totopos or as a fresh topping on tacos. It requires very little prep time and should be prepared close to serving as possible.
½ small white onion
2 garlic cloves, peeled
2 whole serrano peppers, roasted, peeled, stemmed
½ small bunch cilantro, divided
6 medium tomatoes, roasted, peeled
1½ tsp kosher salt
Place onion and garlic in food processor and pulse until finely chopped. Add peppers and half the amount of cilantro and pulse four times. Add tomatoes and salt and pulse four times. Transfer to bowl. Coarsely chop remaining cilantro and fold into the salsa.