Texas Catfish Court Bouillon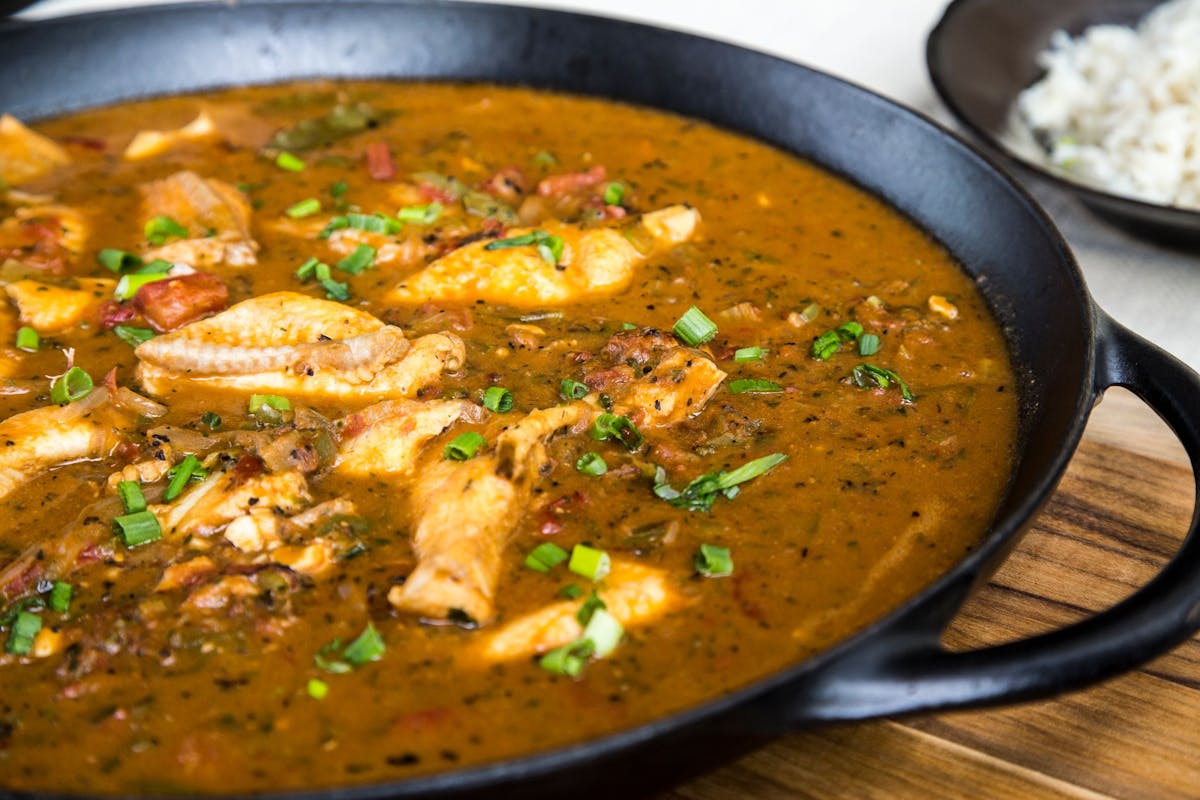 Texas Catfish Court Bouillon, pronounced as one word ("koo-bee-yahn"), is a hearty Creole fish stew that is a favorite for our family to make when we are entertaining at the beach. I use a big roasting pan, nothing fancy, make a roux, add the vegetables and catfish to cook and serve it all with a big bowl of white rice.
Serves 4 to 6
4 tbsp unsalted butter
¼ cup all-purpose flour
½ large white onion, chopped
3 garlic cloves, chopped
2 celery ribs, chopped
1 large green bell pepper, chopped
2 lbs plum tomatoes, roasted, chopped
3 ½ cups fish stock (see page 50)
1 tsp sea salt
Pinch ground cumin
Pinch cayenne pepper
½ tsp dried basil
¼ tsp paprika
¼ tsp celery seeds
2 ½ tsp dried thyme
Pinch red pepper flakes
2 bay leaves
4 catfish fillets (about 2 lbs), cut into 2-inch chunks
¼ cup chopped parsley
¼ cup chopped green onion
2 cups cooked rice, to accompany
Preheat a large saucepan over medium-high heat. Add butter and melt completely. Add the flour and begin stirring constantly using a wooden spoon, until the color is a dark golden brown. Add the onion, garlic, celery and bell pepper and cook until softened, stirring.
Add the chopped roasted tomatoes and their juices and stir to incorporate. Add ½ cup of stock and let simmer for 3 minutes. Reduce heat to medium-low and add the rest of the stock, salt, dried spices, bay leaves and catfish chunks and let simmer for 15 minutes, covered, stirring occasionally.
Remove from heat. Sprinkle with parsley and green onions. Serve over warm rice.
KITCHEN TIP: ROASTING TOMATOES
To roast, cut tomatoes in half, lengthwise, and place on a parchment-lined sheet pan, cut side down. Place under a high broiler until skins have blistered and charred, about 8 to 10 minutes. Turn the sheet pan every 2 to 3 minutes for even roasting. Remove from heat and cool.