Turkey Pozole Verde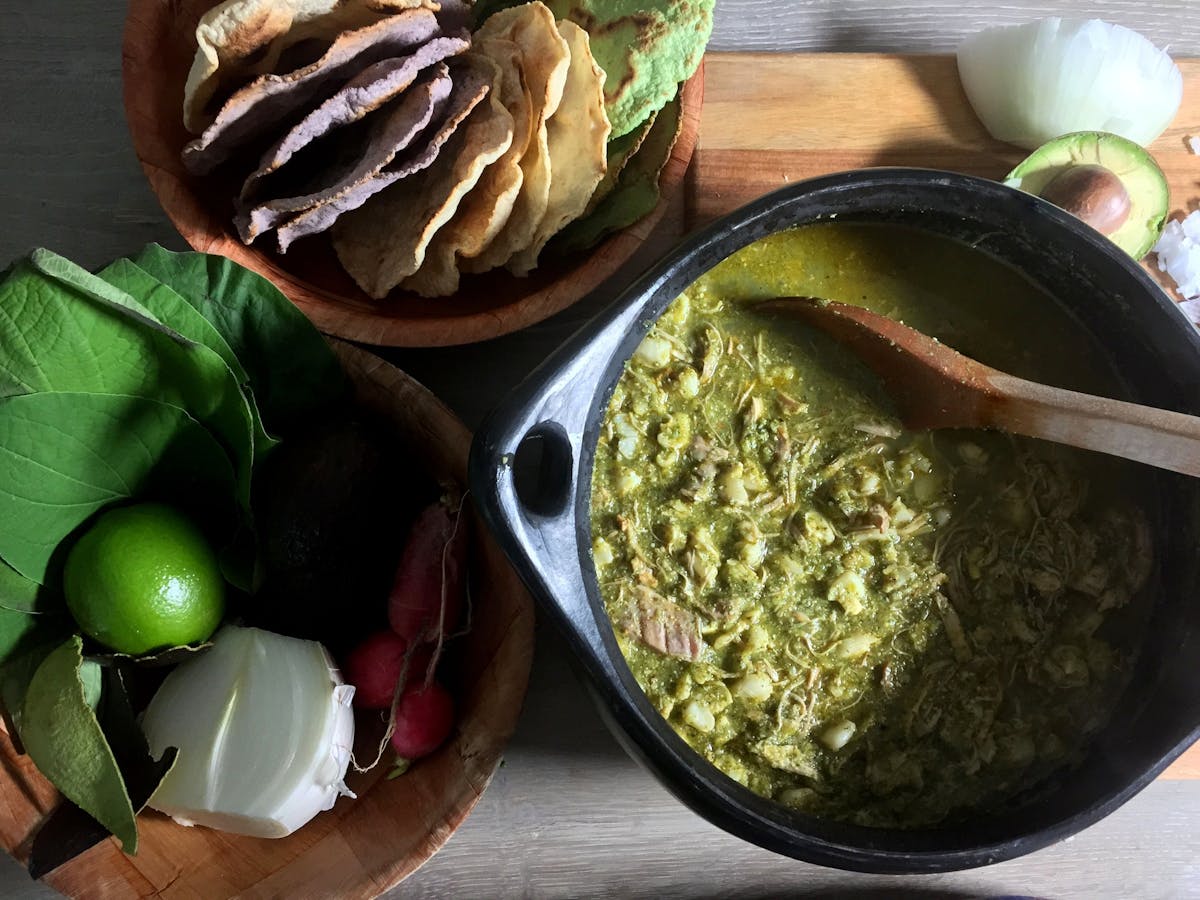 Hominy

Serves 6
---
4 cups hominy, cooked (procedure to right)
1/4 cup slaked lime (calcium hydroxide)
3-1/4 quarts (13 cups) turkey stock (or chicken stock), divided
4 cups leftover turkey (cubed or shredded)
2 cups tomatillos, chopped
2 cups poblano peppers, seeded and chopped
1 cup white onion, chopped
6 garlic cloves, roasted
1 serrano pepper, roasted
3 whole cloves
1/2 teaspoon black peppercorns
1/2 teaspoon whole cumin seeds
1 cup roasted pumpkin seeds
Colorant
---
¾ 1/2 cup cilantro, chopped
1/2 cup fresh parsley leaves, chopped
4 epazote leaves
3 hoja santa leaves, chopped
Salt to taste
Garnish
---
Diced onion
Sliced radishes
Cubed avocados
Lime halves
- Tostadas
Procedure to cook hominy:
---
Soak 3 cups of dry hominy in water over night. (Once cooked, it will be 4 cups in volume.)
Before cooking, drain the hominy and place in stockpot with fresh water, approximately 6 inches above hominy, add the slaked lime and mix well. Bring to a gentle boil, and cook for approximately 90 minutes or until soft. Once ready rinse with cold water until water comes out clear. While rinsing, remove the small hard kernel at the top of each piece of hominy. Optional: you can use canned hominy.
Procedure for the pozole:
---
In a small stock pot, bring turkey stock (reserve 1 cup for next steps) to a gentle boil. Add the cleaned hominy. In a blender, place 1/2 cup turkey stock, tomatillos, onion, garlic, serrano, cloves, peppercorns, cumin and roasted pumpkin seeds and blend well. Add to pozole pot and stir to incorporate, and bring to a gentle boil for 10 minutes. Stir in turkey.
In blender, place 1/2 cup stock, cilantro, parsley, epazote and hoja santa and puree. Add to pozole and mix well. Season to taste and simmer for 5 minutes to meld flavors. .
To Serve
---
Garnish with onion, radish, avocado and fresh lime juice, and serve with tostadas on the side. Enjoy hot.
Enjoy The VIdeo Demonstration Below